Pictures from inside Hong Kong's Polytechnic College present the aftermath of a week-long standoff between protesters and police.
The battle for management of the Polytechnic College has been one of many defining moments of almost six months of anti-government protests within the territory.
Protesters barricaded themselves contained in the campus nearly two weeks in the past. The authorities responded by sealing off the campus, trapping greater than 1,000 inside. Over the previous week, most protesters have both surrendered or escaped.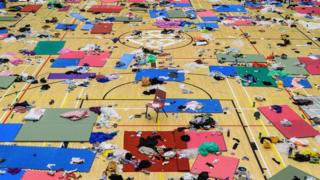 Picture copyright
AFP

On Tuesday, college officers spent a number of hours trying to find anybody left. Under, a crew together with college administration, safety guards, councillors and the Hong Kong Crimson Cross stroll by means of a canteen seeking any remaining protesters who could also be hiding.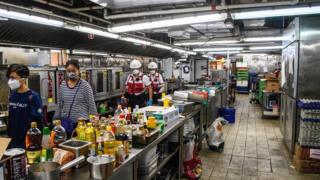 Picture copyright
AFP

Meals was left cooking on a hob within the canteen kitchen.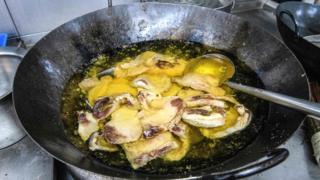 Picture copyright
AFP

Activists – some armed with bows and arrows – engaged in intense battles with the police in the course of the siege. Different gadgets discovered in the course of the search included, beneath, a Molotov cocktail and a hammer left on the roof of a college constructing.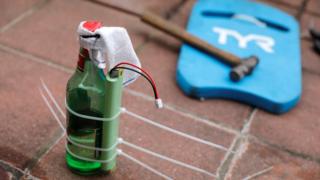 Picture copyright
Reuters

A disparate assortment of things had been discovered discarded inside buildings on the campus. Right here, garments could possibly be seen strewn throughout a toilet ground.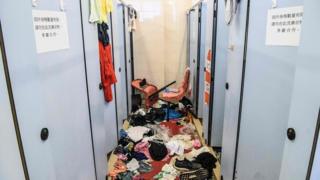 Picture copyright
AFP

Different gadgets left behind by protesters included face masks…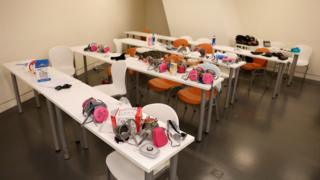 Picture copyright
Reuters

…helmets and meals left in a single room…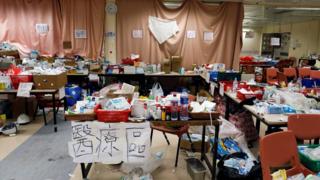 Picture copyright
Reuters

…and different belongings left in a dorm.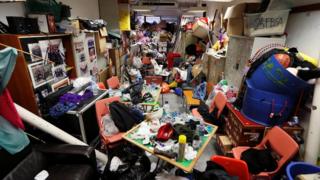 Picture copyright
Reuters

Officers discovered just one girl mendacity exhausted on a sofa, who refused to depart. Others is likely to be in hiding, however it's thought unlikely that anybody else stays.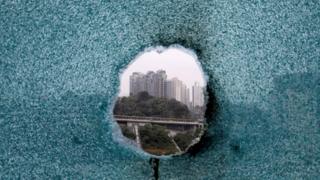 Picture copyright
Reuters

All footage topic to copyright.